A giraffe is pictured against a backdrop of Sydney Harbour, Sydney CBD and the Opera House. Picture: mdurinik, DepositPhotos.com
Sydney's Taronga Zoo has a
magnificent harbourside address
GETTING THERE
Take the 12-minute Taronga Zoo ferry from wharf no.2 at Circular Quay and alight at Taronga Zoo Wharf. The nearby Sky Safari cable car transports you to the zoo. (Cable car ride is included in admission fee).
Taronga Zoo is Australia's leading zoological park, featuring a comprehensive collection of both native and exotic species.
What makes Taronga Zoo different to every other zoo in the world is its Sydney Harbour setting. In what has to be the most exquisite setting for a zoo anywhere, Taronga Park is situated on elevated land along the harbourside in one of the most beautiful vantage points on Sydney Harbour, looking out to the Sydney Opera House.
The Taronga Zoo is just a few stops from Circular Quay by ferry and has its own jetty, so you can step off the ferry and and take the Sky Safari cable car up to the zoo. A round-trip ride on the cable car is included in the zoo's general admissions ticket.
The Sky Safari cable car ride travels from the lower entrance of Taronga Zoo near the Ferry wharf to the top entrance of the zoo's plaza. Accessing the zoo via the Sky Safari cale car ride means you start your tour of the zoo from the top entrance. That way you'll be walking downhill and facing the harbour. As you zigzag your way along the paths among the animal enclosures, you are able to enjoy magnificent harbour views. You'll be constantly surprised as you turn a corner and catch a different vista of the horizon. Then, when you reach the bottom you can catch the Zoo Sky Safari chair lift to take you to the top again and begin your downhill trek along a different path.
If you would like to get up close to the animals and have your picture taken, try the "Animal Encounters" experience. For a small fee, with the assistance of the rangers, you can enter the enclosures of some of the animals on display and have your picture taken by a professional. However, for anyone wanting to "cuddle" a koala, this will not be possible. Laws in NSW stipulate that people are not allowed to touch or hold koalas. This is because of the vulnerability of the animals - they can catch disease from humans or become easily stressed.
A must see while at the zoo is the new Great Southern Oceans exhibit. Covering 1.2 hectare, it features Australian sea lions and fur seals, New Zealand fur seals, Californian sea lions, leopard seals, penguins and pelicans.
The Sky Safari cable car ride, which takes visitors from the wharf to the entrance of the zoo's plaza, provides spectacular views of Sydney harbour.
Picture: © Fritz Hiersche, 123RF.com
Some of the zoo's residents have their own rocky penthouse views of the harbour and Sydney Opera House. Picture: © Faintfoto, 123RF.com
A tiger appears right at home in his zoo enclosure. Picture: Khoo Ee Von, 123RF.com
A Bennett's wallaby, a popular animal exhibit. Picture: JJ Harrison, Wikimedia Commons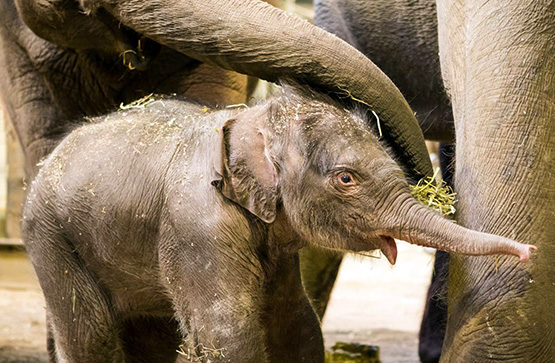 Jai Dee was the first Asian elephant born at the Taronga Zoo in seven years. He was born on 26th May 2017 weighing 130kg after a pregnancy lasting 22 months. Picture: Taronga Zoo
Up and close with a black rhino. Picture: boggy22, DepositPhotos.com
A komodo dragon basking on a rock. Picture: Woodstock, DepositPhotos.com